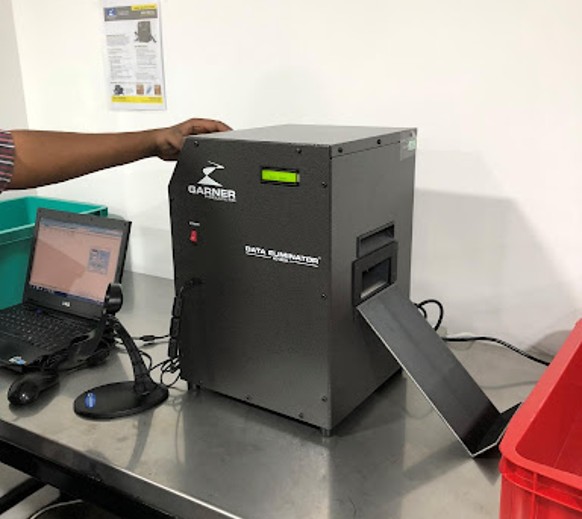 Degaussing
Degaussing destroys remnant magnetic fields on magnetic components, heads, and domains on hard drives by exposing them to a strong magnetic field. This guarantees that your information is no longer retrievable, and the degaussed hard drive is rendered non-functional.
SAMS offers various degaussers that meet NSA standards and CESG requirements to delete data permanently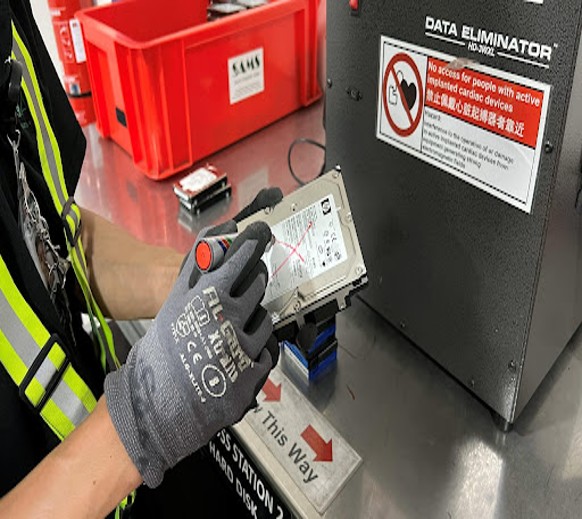 Benefits of Destruction through Degaussing
Highly Effective

 100% guaranteed removal of data from magnetic media, generating peak fields up to 18,000 gauss.

Quick

 Each degauss cycle is up to 4 seconds per had disk which reduces the amount of time and labour required.

Reporting For Audit

We provide system-generated activity reports for audit trail.

Convenient

Services are available both onsite at the customer's premises or at SAMS' secured facility.
SAMS's complete packaged service for Data Destruction includes :
Customized logistic pickup service with a secure chain of custody at every touchpoint
GPS tracking of vehicles bearing the storage devices
Locked and security-sealed tote bins for transportation
CCTV recording upon arrival at the facility through validation till the final destruction of the consignment
Secure online client access for monitoring (special arrangement required)
Activity and Process Reports for audit and tracking detail
Scanning for inventory record/ asset tracking
Certificate of Data Destruction upon successful destructed of storage devices
Contact Our Team
Looking to destroy Data Security? Contact Us!
With SAMS, customers can choose to have their storage media devices degaussed offsite at our secured facility for bulk degaussing on-site on their premises.